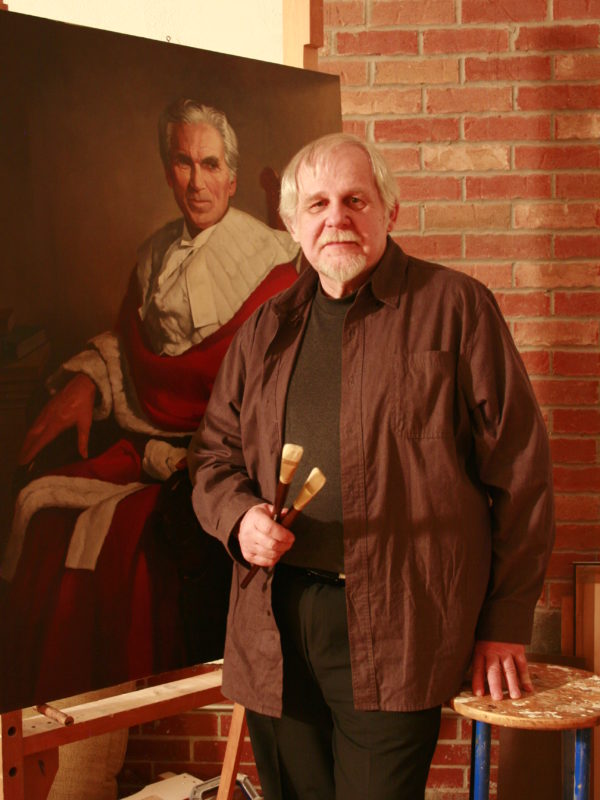 Gregory Furmanczyk, born in Papineau County, Quebec, is a Portrait Painter who has painted many institutional, corporate, and private portrait commissions which hang in prominent locations such as the House of Commons/Parliament Hill and the Federal Courts in Ottawa; the Ontario Legislature and Osgoode Hall in Toronto; and, include official portraits of Chairmen of the Bank of Montreal and of the Canadian Imperial Bank of Commerce, Governors of the Bank of Canada, as well as Presidents of Universities; these works extend to cultural portraits such as the Director of the Shaw Festival at Niagara-on-the-Lake; as well as, ecclesiastical portraits located in the official residences of the Archbishops of Ottawa, Toronto, and Hamilton, in the International Headquarters of the Salvation Army, and in Divinity Colleges across Canada.
Throughout his career. Mr Furmanczyk has done research on techniques of the old masters, traveled to Rome and to Florence where he spent much time at the Uffizi Gallery examining the paintings of the Renaissance and Baroque Italian Masters. His research was particularly in the study of under painting, grisaille, and the painting and glazing techniques of the early Flemish and Venetian school. He combines techniques of the 17th and 18th Century which contribute to his characteristic painting style.
Gregory Furmanczyk's paintings are in collections throughout Canada, the United States and England. Mr Furmanczyk has also taught portrait painting at the Ottawa School of Art and lectured on the art of portrait painting at the University of Toronto.
Artist's Statement
"A successful portrait is more than just a facial likeness. It is a work of art that captures an expression characteristic of the subject: The arrangement of the pose, whether standing or sitting, must look natural and contribute to the likeness. Background colours and textures surrounding the figure can create a dynamic impression—noteworthy or complementary; that helps draw the focus to the subject. Ultimately, a successful portrait captures a look which communicates the essence of the individual."